from the St Louis Fed
— this post authored by Ana Maria Santacreu and Heting Zhu
Two measures of innovative activity of a country are:
Its research and development (R&D) intensity (that is, the fraction of total output invested in R&D), which reflects the effort of innovation
Its number of patent applications, which reflects the output of innovation
Larger R&D investment is associated with faster technological progress, higher productivity and faster output growth.
One of the outcomes of the R&D process is an increase in the number of patent applications.1 Indeed, there tends to be a positive correlation between the R&D intensity of a country and the number of patent applications in that country.
R&D Intensity: China vs. the U.S.
In terms of R&D intensity, the U.S. has been a global leader in innovation for the past 20 years. However, China has been catching up fast in recent years.
In 1996, China invested 0.56 percent of its GDP in R&D, while the U.S. invested 2.44 percent of its GDP. In 2015, China invested 2.06 percent of its GDP, whereas the U.S. invested 2.79 percent. That is, the R&D intensity in China increased by 1.5 percentage points and in the U.S. by only 0.3 percentage points.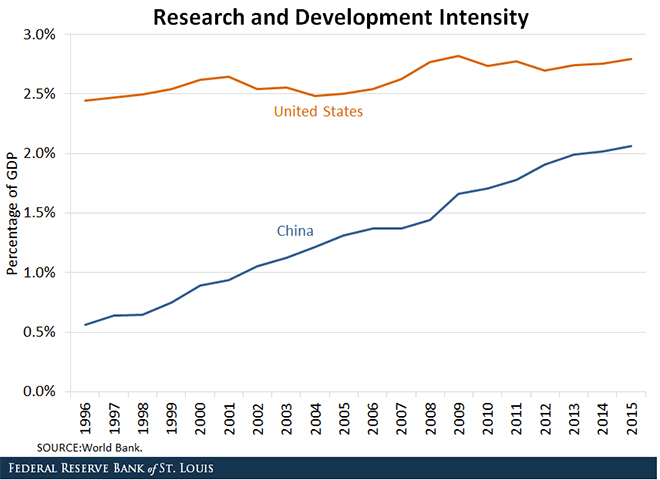 Patent Applications: China vs. the U.S.
Regarding patent applications, the U.S. applied for 177,967 patents in 1996, which contrasts with the 11,974 patent applications in China that year. However, in 2015, China exceeded the U.S. in the total number of patent applications by 90 percent, as seen below.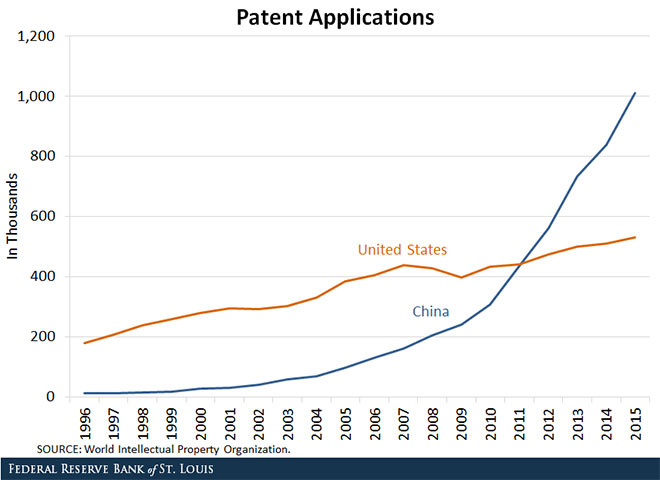 The dominating role that the U.S. has had with respect to patent applications has been challenged in recent years. Is China becoming the new global leader in innovation?2
Why Has China's Innovation Increased?
There may be several reasons why China is innovating so much more than before. For instance, technological developments in China together with a growing market may favor investment in innovation.