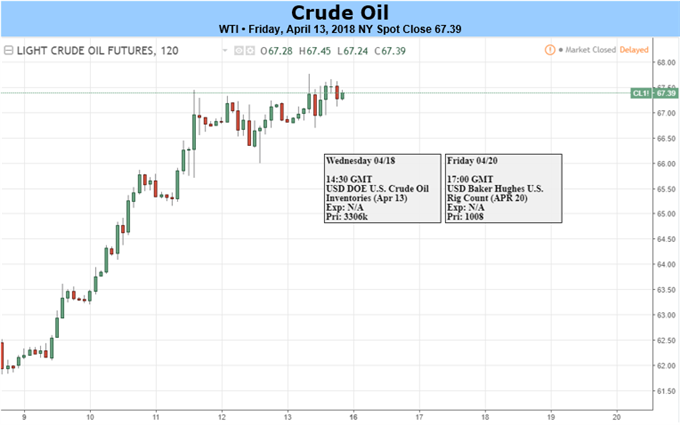 Fundamental Forecast for USOIL: Bullish
Talking Points:
Crude set for biggest weekly gain since July on escalating geopolitical risks, demand premium
EIA data took a back seat to geopolitical risks that took Crude to highest levels since Dec. 2014
Per BHI, U.S. Oil Rig Count rises 7 to 815, US Total Rig Count at 1,008
IGCS shows growing net-short retail positioning in WTI – US Oil, favoring bullish pressure
Crude oil was at the epicenter of geopolitical risk last week due to Yemeni missiles heading for Riyadh being intercepted and US President Trump threatening a barrage of missiles toward Syria. In a change of events, the reduction of trade war threats was replaced with possible real war, which was a concoction that caused oil bulls to bid the commodity market to the highest levels since 2014 and pushed WTI Crude closer to $70/bbl.
Volatility Now Brings Upside Price Risk That Also Includes Inflation Risks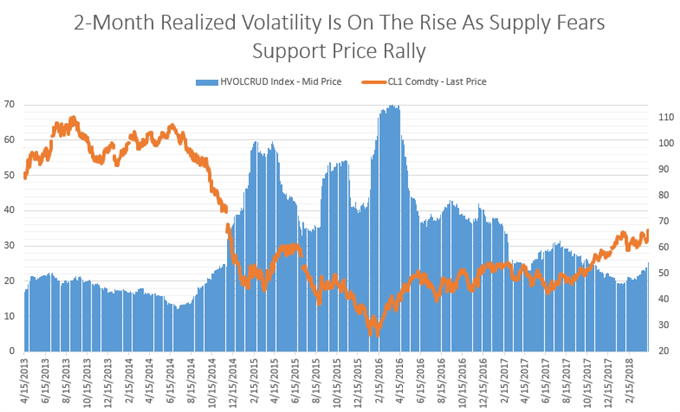 Data source: Bloomberg
Traditionally, volatility is accompanied by downside price shocks. As you can see above, 2-month realized volatility spiked when price bottomed in early 2016. However, recently we've seen 2-month realized volatility at the highest levels of the year with price pushing to the highest levels since December 2014.
The increase in crude oil is incredibly important as it often brings inflation behind it as a key macro development. Inflation has been called the silent killer of bull markets that appears to be making a comeback with a perfect storm seems to set up commodities as Goldman Sachs said this week that the case for owning commodities has rarely been this strong.
Additionally, OPEC said its output fell to the lowest in a year last month while the IEA has said demand remains on track with previous estimates. This combination suggests global markets are poised to tighten sharply, which could exasperate the upside and extend backwardation.
Also, with all the talk about at a US yield curve on its way to inversion, traders should also note that the previous two recessions were foretold by a surge in crude oil prices.