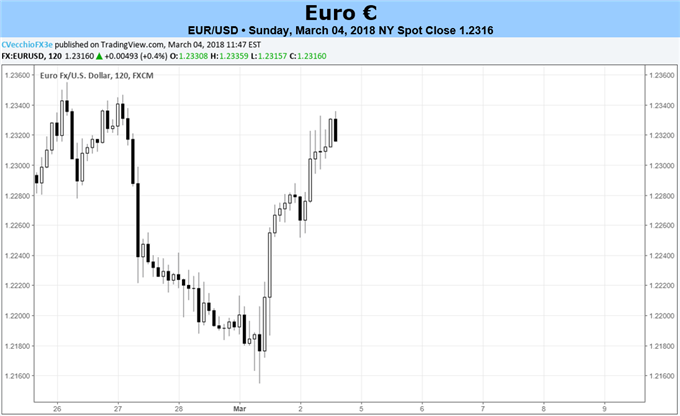 Fundamental Forecast for EUR/USD: Neutral
Italian election results won't be officially released until Monday morning, and exit polls have a history of being well-off the market. Take what you see at market open on Sunday with a grain of salt.
The ECB is likely to signal that easing will continue for the foreseeable future, especially given how far below target inflation is running. Ongoing Euro strength isn't making their job any easier.
The 

IG Client Sentiment Index

 has cooled on 

EUR/USD

 in the near-term, although the retail crowd remains net-short.
The Euro was having a fairly tough week until Thursday, when US President Trump signaled the start of a new trade war over aluminum and steel tariffs. While political risk out of the United States is rising, market participants have seemingly overlooked the risks emanating from the Eurozone.
But maybe that's for good reason. Even though the Italian elections are being held on March 4, no one seems to be batting an eye. After all, no party is expected to achieve the 40% threshold of votes in the lower chamber that would grant them the automatic majority needed to secure the power to form a government on their own. Instead, according to polls before the polling blackout went into effect, the anti-EU populist party, MS5, appears set to get the largest share of the vote – mind you, it was polling less than 30%.
It would thus appear that a hung parliament is going to emerge when the final votes are tallied. On March 4, the first exit polls will come out around 17 EST/22 GMT, right as FX markets open. However, Italian exit polls have been historically unreliable, deviating from actual results by about 5%; take them with a grain of salt.
The final vote tally won't be released until approximately 8 EST/13 GMT on Monday, March 5. The timing of the vote results means that volatility in the EUR-crosses is probable as the numbers are released in drips and drabs without any clear context; it seems unlikely the market will be too committal to a direction, if at all, until Monday.