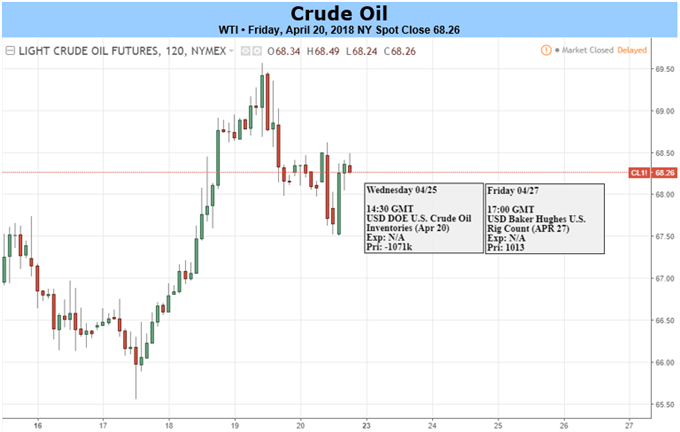 Fundamental Forecast for USOIL: Bullish
Talking Points:
Brent options skew showing the strongest bias for further gains in four years
OPEC looks to have nearly cleared the glut turning the focus on what is next and adding to volatility
Per BHI, U.S. Oil Rig Count rises 5 rigs to 820, US total rig count to 1,103
IGCS shows growing net-short retail positioning in WTI – US Oil
, favoring bullish pressure
A grab bag of bullish developments met Crude traders last week. While the bear's focus has undoubtedly been on rising production, reports surfaced that bottlenecks in the Permian basin are developing as the demand is higher than the supply, which is validated by the future's spreads.
On Friday morning, Trump took to Twitter to blame OPEC for, "artificially Very High" oil prices to which they rightly responded has restored the industry in the US. The comments come ironically, as Trump looks to impose sanctions on Iran, OPEC's 3rd largest oil producer that could wreak commodity havoc in a similar vein as his sanctions on Russian oligarchs did on the Aluminum market that has risen over 24% since the sanctions were announced on April 6.
Additionally, the API monthly report showed that US petroleum demand in March was at its highest level in over a decade rising from 20m b/d in March 2017 to 20.6m b/d last month. Bullish signals look to be proliferating, and price pullbacks remain shallow making it hard to fade this multi-faceted uptrend in Brent and WTI. Goldman Sachs chimed in saying that global oil demand data so far in 2018 has come in line with their optimistic expectations, with 1Q18 likely to post the strongest YoY growth since 4Q10 at 2.55 million b/d.
EIA Provides More Bullish Fuel
Wednesday's EIA report was seen as stepping stone to the weekly high of crude oil as they showed record gasoline products supplied with drawdowns in crude, gasoline and distillates. Another positive component from the report showed a rebound in US exports to nearly 1.8 million bpd that is helping to st0p the bleeding from OPEC's over-compliance (more on that next) and the collapse in Venezuelan production.