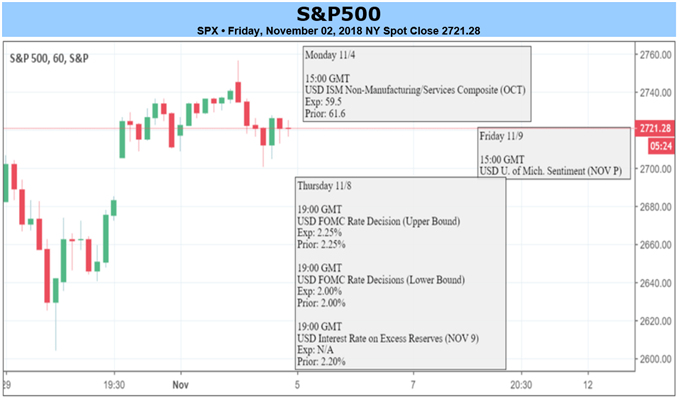 Fundamental Forecast for Equities: Bearish
Equities have shed some geopolitical concerns but midterms look to command the spotlight next week
Earnings season has largely been a boon for US equities with many positive results across sectors despite disappointing reports from FANG
Trade wars will continue to dominate headlines and pose as a constant risk
S&P 500 OPTIMISTIC ON TRADE, AWAITS MIDTERM ELECTIONS
After an incredibly volatile October, November brings with it the opportunity for equities to regain their footing. Earnings season has become somewhat of a tailwind for equities as many corporations delivered a positive surprise. At this time, over 50% of the members in the S&P 500 have reported and 84% of them have met or exceeded analyst expectations.While the broader performance may be quite strong, FANG earnings were rather disappointing and risks in other areas still remain.
The headline risk for equities next week will be the US midterm elections. Senior Currency Strategist Christopher Vecchio compiled a list of possible outcomes and their respective impacts on equities as well as currencies.
Outside of the midterm elections, trade wars remain a top-tier risk to equity performance. This week President Donald Trump and Chinese President Xi Jinping expressed a willingness to meet and discuss trade at the G20 Summit scheduled at the end of the month. On Friday, Director of the National Economic Council Larry Kudlow confirmed a meeting between the two Presidents was scheduled.
S&P 500, DOW, NASDAQ PRICE CHART (1) DAILY, YEAR-TO-DATE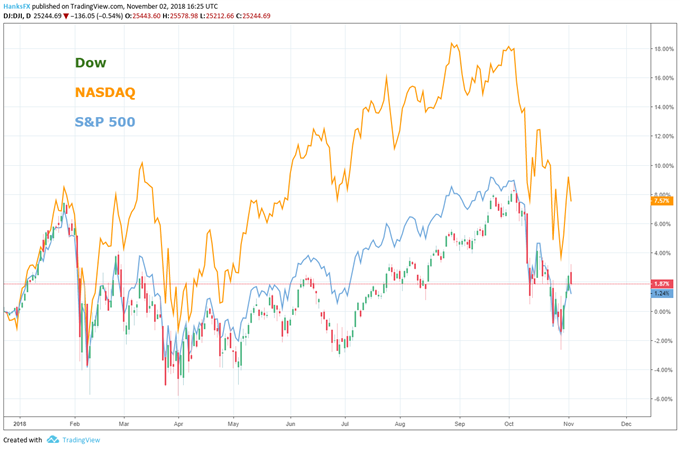 Following that announcement, Mr. Kudlow expressed concern over a lack of progress with China. In an interview he admitted President Trump has not yet asked his Cabinet to draw up a plan for the meeting and that no significant movement between the two nations has materialized. He went on to say "I'm not as optimistic as I once was about reaching a China trade deal."