EUROPEAN CENTRAL BANK (ECB), BANK OF JAPAN (BOJ) HIGHLIGHT NEXT WEEK'S CALENDAR
It's been an interesting week across global markets, as earlier-week breakouts in both the British Pound and US equities were unable to hold, and we've already seen reversals to varying degrees in each of those markets. Last night's Japanese inflation came-in at 1.1%, cooling from the 1.5% from last month and removing a bit of pressure from that theme of Yen strength that began to show in Q1. This opens the door to the possibility of a continuation of Yen weakness as we work deeper into Q2, and as we move into next week that theme will be in the spotlight as we get a Bank of Japan interest rate decision on Thursday/Friday of next week.
Before we get to that rate decision, we have another item of interest in the ECB's April rate decision set for Thursday morning. Next week's calendar is back-loaded with these two rate moves in the latter-portion of the week:
DAILYFX ECONOMIC CALENDAR: HIGH-IMPACT ITEMS FOR WEEK OF APRIL 23, 2018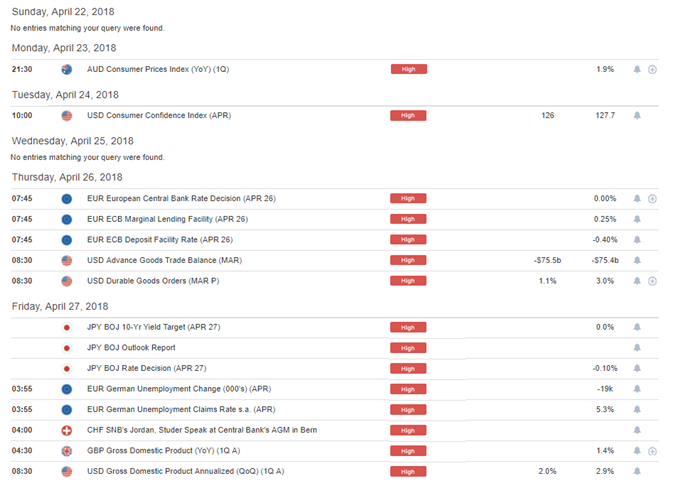 US DOLLAR MOVES BACK ABOVE 90.00: BULLISH BREAKOUT POTENTIAL FOR NEXT WEEK
The US Dollar has been weak. This much is known. And this weakness has happened in a backdrop where monetary policy would generally dictate otherwise, as rates have been rising in the US without much tightening elsewhere. We did get the rate hike out of the UK in November, and we may get another in May, but outside of that, there has been a dearth of rate hikes out of large Central Banks not named the Federal Reserve.
This alludes to the fact that something else has been doing the driving here, and we've discussed the likely culprit of fiscal policy in the past. And while that theme may continue on a longer-term basis, we may be nearing an area where a retracement in that built-in down-trend in the US Dollar might be ready to take a break. DXY has not made a fresh low for more than two months, and that happened after support showed at a key Fibonacci retracement. This lack of further lows may be helping to highlight a greater degree of probability for a bullish short-term move in USD.