STOCKS COME BACK, S&P 500 BOUNCE DRIVES GLOBAL RALLY
As we open Tuesday of our holiday-shortened week, markets have shown some interesting volatility as we approach the end of Q1. As we mentioned yesterday, with this being a holiday week in observance of Good Friday combined with both month and quarter-end flows, the prospect of 'peculiar' moves was a bit higher than usual. That has led into this morning's rally in the US Dollar after a string of weakness that ran into last night; along with the bullish push across global equities after yesterday's aggressive rally in American stocks on the heels of Friday's nasty sell-off.
FROM FRIDAY FLOP TO MONDAY MOTIVATION, BUYERS RETURN TO THE S&P (HOURLY CHART)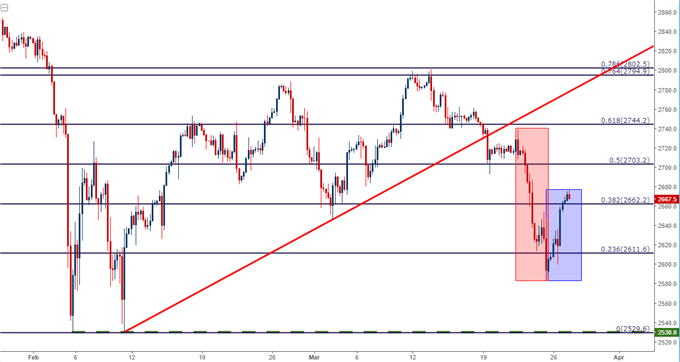 Chart prepared by James Stanley
DOLLAR RALLY KICKS OFF WITH THE EURO OPEN
The big item as we open the US session is a rally in the US Dollar that's shown over the past few hours, coinciding with this morning's European open. Dollar weakness remained fairly prominent through yesterday's US session and well into Asia, with a quick test below the 89.00 level just before Europe opened for the day. But after that, USD strength began to show and hasn't yet exhibited any signs of abating. At this point, DXY has rallied up to a zone of prior support, the same zone that we'd looked at yesterday for the 'range within a range'.
US DOLLAR VIA 'DXY' FOUR-HOUR CHART: RALLY FROM MONTHLY LOWS, RESISTANCE SHOWS AT PRIOR SUPPORT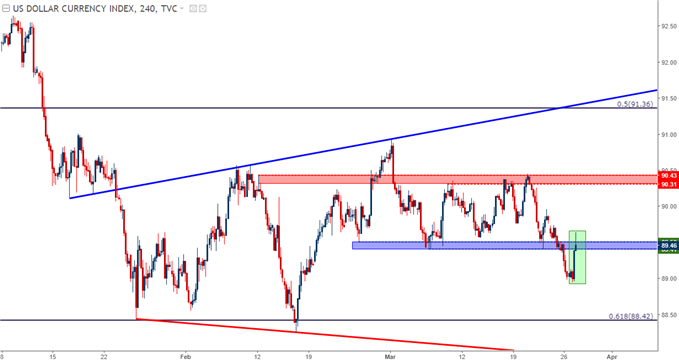 Chart prepared by James Stanley
DOLLAR BUMP LEADS TO EUR/USD SLUMP
Given the timing of this morning's bump in the US Dollar, it would appear that at least some of this move is Euro-related, as the European currency comprises 57.6% of the US Dollar Index basket (DXY). A set of negative confidence reports that were released right around the time that USD started to surge would point to the fact that this move of Euro-weakness is helping to extend the rally in the US Dollar. At this point, EUR/USD is falling from the zone of resistance that we'd looked at yesterday that runs above the 1.2400 handle. The big question around the pair at this point is whether support shows at any of the three zones that we've been following.